GLOBAL REACH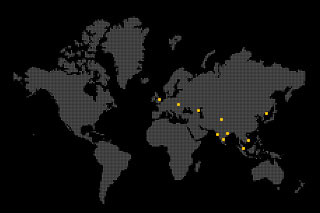 LOCAL WORLD

You need an exhibit design firm that has real-world experience, expertise you can depend on and the track record to prove it. The Orane portfolio speaks for itself. We have created a fine network of trusted partners across the globe, to build your exhibits. The headquarters in Mumbai, typically handles the design and controls the overall project while our vendors abroad handle production and perform onsite.
Our years of experience of working in exhibition venues overseas make us the ideal choice for your travelling exhibition programme whether you require a full custom stand or a modular solution.
Having worked in countries like Singapore, South Korea, U.A.E., U.K. and the Euro-zone, we have created a bank of resources and global partnerships to see that your event gets maximum benefits in every way to effectively market your brand.